In 1970 after an Art major at school I went to work in the advertising world of Sydney. A bustling workplace in a bustling city. I ran messages in the heat of summer (in a suit I might add – the only one I ever owned) from one end of town to the other for three long weeks before I was allowed near a pen, and told to lose the suit! My boss then ordered me off to night classes at Julian Ashton's Art School to improve my drawing (how impertinent), it was a school steeped in traditions reaching back to the Australian impressionists.
I'm glad he did.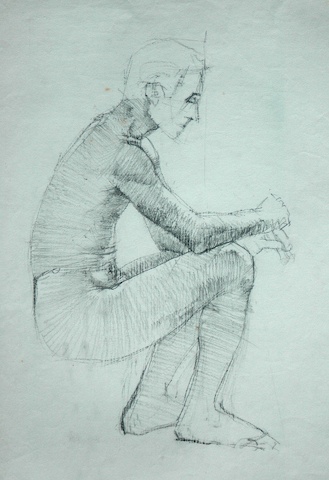 Richard Ashton and other teachers there impressed me. They demanded much and I enjoyed every minute. The fact that my classes were at night in the slowing bustle of the harbour made the experience even more romantic. The school was on the top floor of the Mining Museum just up from the old Sailors Home at Circular Quay.
My next job took me away from that end of town and the opportunity to continue at Ashtons so thereafter it was going to be up to me, as it had been until I left school. Still later I worked in the country and along the east coast in regional advertising before venturing into teaching art and design in the mid-west, then on to teaching drawing, design and communication subjects in several universities and colleges across Sydney.
Tertiary teaching required evidence of a professional practise to support currency in your field of expertise, so advertising, illustration and publishing work was never far away.
Today I am experimenting again, with wood, and with ideas and approaches, having introduced reclaimed wood into some of my art a few years ago – I'm sure there is more room for that in the future. I've produced a few watercolours, a few acrylic paintings and plenty of conceptualising for the future.
I feel uneasy about producing art like a machine, that is to say, one theme/concept, one style, then thrash it for all it's worth. My background in advertising design and illustration was, for the most part, as a freelancer and that meant every day was different, every job squeezed into every day was different. Variety was everywhere, change was the expectation – I'm comfortable with it. I'm not that comfortable with repetition.
So I'll just stumble on from one experiment to the next and see where it leads… one day I might get a chance to organise this work and this site more efficiently, and more usefully, but until then new work will pop up in the posts while everything else will be available in the top menus.