The headline is garbage of course. Spewed forth by a NSW Land & Environment case I was party to some decades ago. The ponce who claimed to be "his honour" came to the place in question with an Akubra on his scone (that's 'head', noggin, dome etc for non-Aussies) strolled down our then pretty little narrow lane waving his arms about with a big smile on his face, had lunch with the developer and went back to his north shore water-view for dinner, and to stow that Akubra away in mothballs.
The next day in court he proclaimed "but there is no property in a view", as if to conclude the fact that so long as the view wasn't from his own back yard, removing said view from others will not be an obstacle to a developer doing the removing (among many other things).
The public have a long-held view that there is very little honour left in today's legal systems. Trees went first, then a few short months later the view for everyone in the lane was dutifully removed by the developer, at the behest of "the ponce".
The view in question here is dictated by the trees in my drawing and the foliage that once surrounded them as they stand between the road and the beach. Someone lit a fire most likely to improve the view from their home on the other side of the street ("AHA!" I hear you say). The tree on the left is hanging in there, just. The tree on the right is barely alive and all the vegetation behind the trees back a few metres to the roadside is dead and decaying. Only a few metres of live vegetation exists in front of them down onto the narrow beach dunes that front the high-tide mark.
To make my drawing I had to rely on photos I had taken of these beautiful little trees months and years earlier.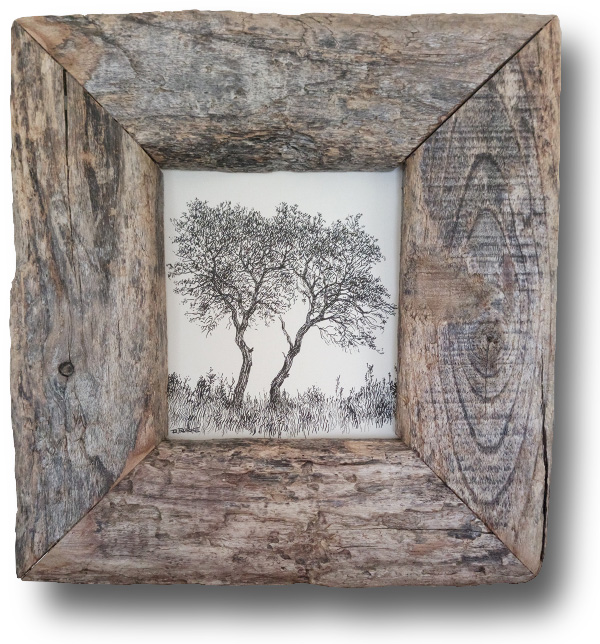 We use the trees as a marker to walk to along the beach, and often sit to discuss the world (and sometimes the justice system) every other day. The frame was made from a very well worn piece of driftwood found after storms on the same beach.
We, like the trees, live a fragile existence in full view of a doubtful justice system. Like veins and arteries, trees course through our lives daily, we shouldn't ignore their presence – while there are some still here.
Postscript: The tree on the right in the drawing was, after about two years, the one that finally collapsed into the undergrowth. It never recovered from that deliberate fire and now our marker is simply "one tree".
Pen and ink on 250gsm watercolour paper.