Very cold too. My first university post was a few hours to the east of my home at that time and the journey took me across the Blue Mountains to the edge of the Sydney Plain. For over a year I passed this place several days a week morning and night, always, as the saying goes, driving into the sun (ADITS – according to the students). At Katoomba near the top of the range the highway slid round this bend and the sun always hit me right in the eyes – sunglasses could never beat it.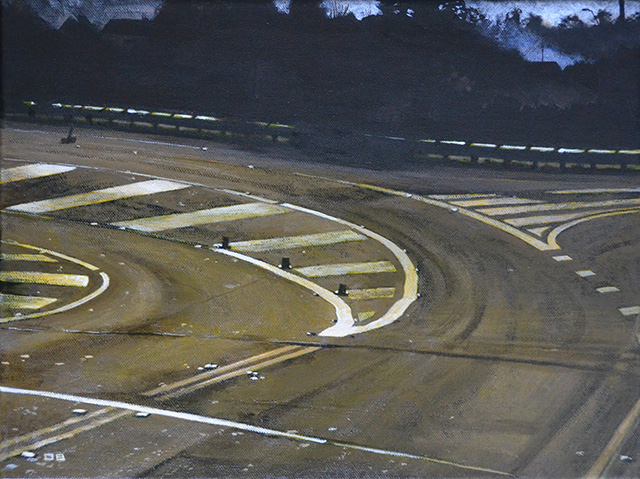 So one day I recorded the scene, of which this painting is a small part (the most interesting part to me), jumped back in the car and kept going… you guessed it, "always driving into the sun".
The scene was just one of those places/times/whatevers that sticks in your mind until you give in and do something with it, even though we're talking some thirty years later now.
I liked the light bouncing off the road markings that made them ribbon-like, hard-edged, high contrast bands leading your eye around the curve and around the painting. This, in contrast to the soft light forms of morning wood-fire smoke and cloudy mountain mists clearing to a bright winter's day.
Interesting to me at the time and just wouldn't go away whenever I looked back on it – perhaps the scene just fed the boredom of a long drive. Perhaps I just like the abstract quality of it, but here it is.
Painted in acrylic on canvas, 40cm x 30cm.