"The Grove At Magdala" was a happy place for me. Infested with that colonial curse Lantana and inhabited by kangaroos, snakes, goannas and bugs of all kinds I took it on myself to tame it to my satisfaction – that is to say I wanted it to remain wild, but interesting. I mowed and cleared tracks all through the Grove, an acre or two of forested land on the slope just down from the house at the edge of the area we kept clear from bushfires and so we could see any pests, like snakes.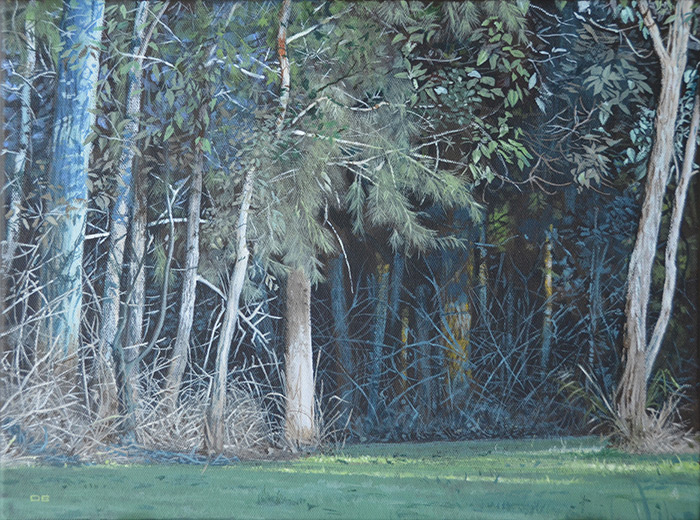 Snakes tended to skid across my tracks when I was charging through on my trusty John Deere ride-on but kangaroos would just stand there staring at me as if they couldn't possibly take me seriously. The local farmers probably thought I couldn't be taken seriously either, tearing around on a ride-on mower more often than not with dust billowing everywhere drifting across the road onto their washing lines. While living there we were never challenged by bushfire and only occasionally chased by goannas.
I loved getting in there in amongst the twigs and branches, piles of Lantana and the wildlife. The birdlife flourished in there too. It was full of the smells of the Australian bush and that odd herb-like smell of Lantana – surely a leftover from pre-historic times. This painting shows the start of the main trail veering to the left between the trees and down into the grove late on a summer afternoon.
The light spears across the ground and winds it's way deep into the forest behind. The tree trunks and dead Lantana rods were always silvery at this time of day.
The painting is acrylic on canvas, 40cm x 30cm.